This document will be your navigation guide for your TSearch Platform. Once you have set up at least one content service connection you will be able to easily search and view your files stored. This includes the ability to manage your records including holds and setting up record retention plans.
TSearch Views are all controlled by widget instances. Some out of the box some customized to the client's needs.

---
View Indexed Files
Users can use TSearch to see all of their files in one location. The following widgets can be added to a content view to configure how the files are displayed in a basic search view.
Result Set Widgets are used to set the initial layout of the information these are added to the body of the content view and should be listed at the top of the widgets added. Only one result set widget can be used at a time.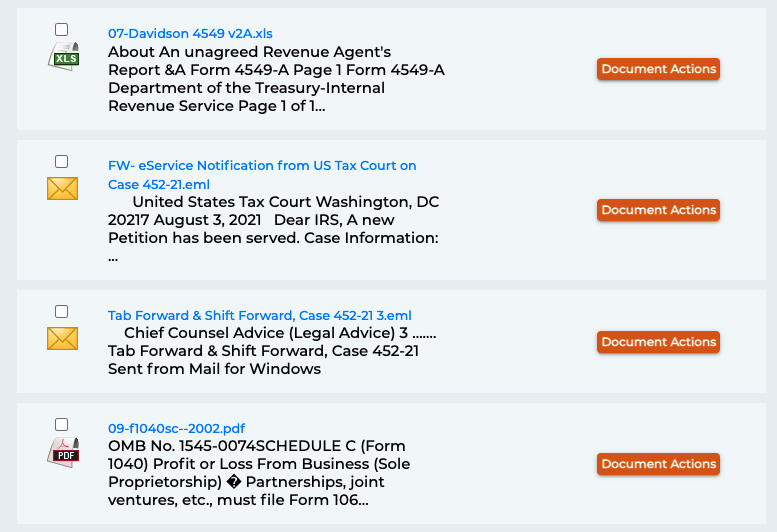 ---
Filter Search Results
There are many widgets you can add to the left sidebar section of your template to filter the files listed.
Required: The Current Search widget is required when creating a content view that filters your results. It adds a section to the top of the page that displays your search filters.

Keyword Search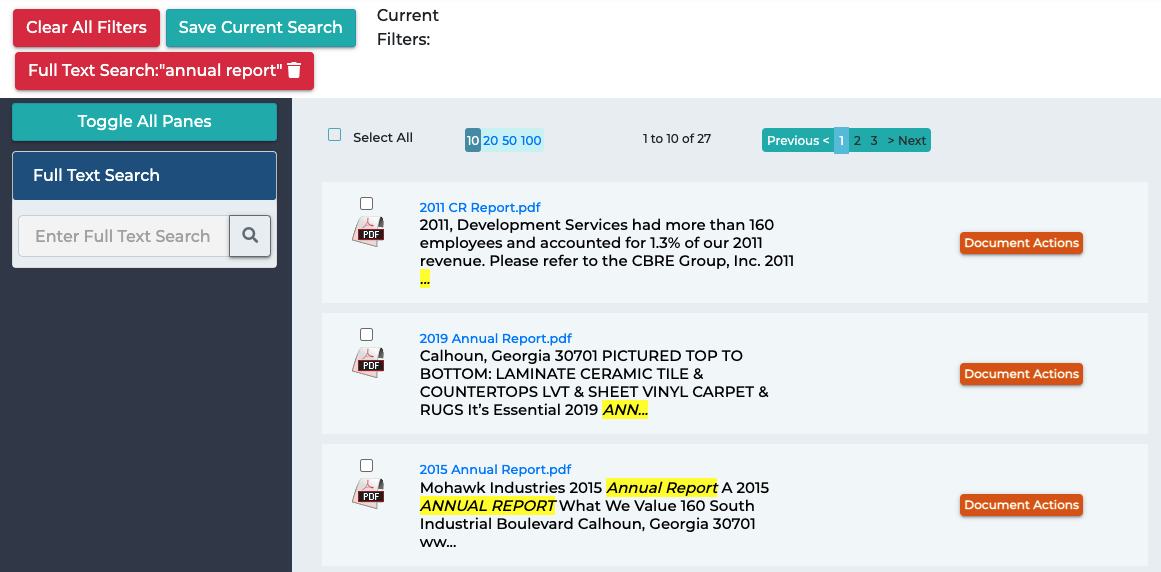 Connector ID and Content type
File Size
Created or Modified Dates
---
Document Management
There are several widget you can add to your TSearch content view that will allow you to manage your files. With Tsearch you can take all kinds of actions on your documents including, view, edit, download, and remove files from view. These usually come in the form of content action widget, but can also use a few top menu widgets.
View Files
Edit Files
Download Data
---
Visualizations
TSearch provides various charts to visualize your data. Some prebuilt and some customizable. See the page on TSearch Reports for detail on creating and using visualizations.
---
Out of the Box
Upon initial installation of Simflofy TSearch the following content view is provided out of the box.
Top Menu
Left Sidebar
Document Actions
The following links can be found in the top menu of the TSearch platform out of the box. Additional links can be added using widgets.
Create New View: Once you have completed your search to can create a new view based on your search results
Download Selected: Download the files selected
Metadata Export: Export the properties of the files selected
Saved Searches: Once you have completed your search you can save the criteria for future searches
Home: Returns the user to the home page
User Options
Select Toggle All Panes to expand search panes
Full Text Search: Full-text faceted text-box search.
Filename Lookup: Search for a file using all or part of the filename
Content Type: Filter your results by the file type
Filename Search: Search for files by name
Once a document is selected you can perform additional actions specific to that file and file type.
Document Metadata: Allows you to download the file properties
Download Document
Edit File Properties
View/play file will also show as an option if it is an image or video